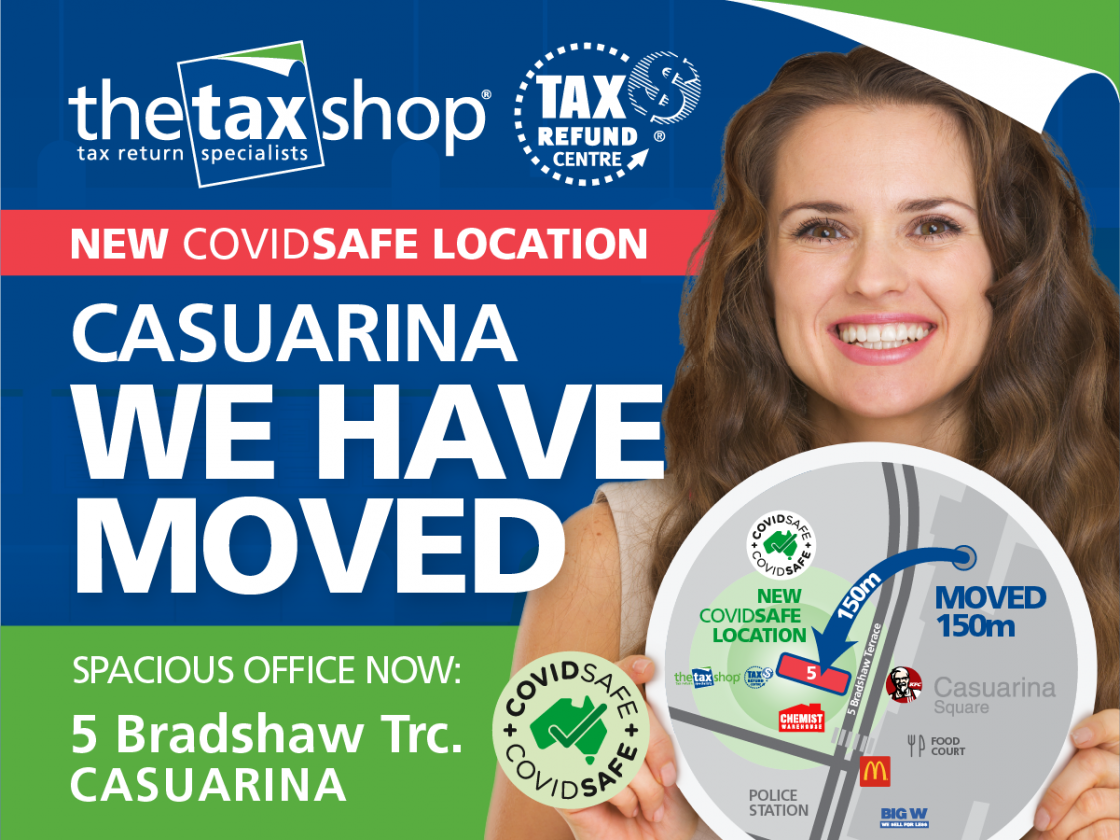 Casuarina - NEW COVIDSAFE Location
We Have Moved to 5 Bradshaw Terrace, Casuarina NT
With the COVID Pandemic in mind, we will not be operate from our old confined, cramped and noisy Casuarina Square booth site this tax season.
Our replacement COVIDSafe Casuarina office site is just 150 metres from our old booth site, directly adjacent the Casuarina Square Food Court
NOW LOCATED AT: 5 Bradshaw Terrace, Casuarina [MAP]
As of today, we are accepting Pre-Bookings!
Secure your tax return appointment below.
Our NEW LOCATION is uncompromisingly compliant with National COVID Distance Guidelines of 4sqm per person**

PLUS:
Extra security of COVIDSafe Hygiene Barriers between tax consultants & clients
Enjoy the space, safety and quiet that only dedicated offices can provide.
Be insulated from seasonal colds and flus that spread easily in cramped & confined spaces
NEW Seven day a week extended trading hours over tax time up to 7.30pm each evening
Your choice of remote, non-contact and in person solutions to suit your preference
We still have all your prior and current information as always, for great tax time efficiency
ALSO NOTE: DARWIN CITY, PALMERSTON OASIS & COOLALINGA SITES
ARE ALL COVID-SAFE & BUSINESS AS USUAL
*We are not associated in any way with any other tax agents operating from Casuarina Square
**National COVID-19 Coordination Commission
#ItsJustGottaBe
#TheTaxShop
#GetTheBestReturns
#TaxReturns
#TaxBack #MaxMyTaxBack #TaxReturnsCasuarina #TaxReturnsNT
Share this Article