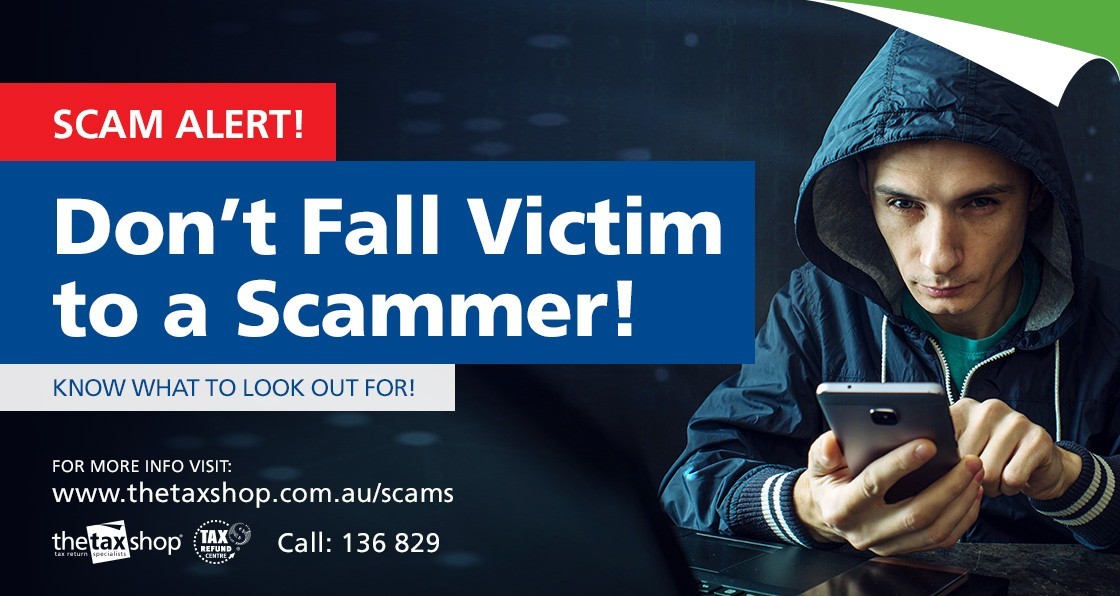 Scam Alert - Don't Fall Victim to a Scammer!
The Australian Tax Office (ATO) is warning taxpayers to be on high alert to scammers. The ATO has seen an increase in scam phone calls, especially those using software that copies a legitimate phone number to disguise the caller's true identity.
It's not a matter of if you will be targeted,
it's a matter of when... so be prepared!
You need to be aware of scammers pretending to be The Tax Shop / Tax Refund Centre. It is ok to say NO, end the call and call us direct if you are unsure.
The Tax Shop / Tax Refund Centre WILL NOT:
use aggressive or rude behaviour, or threaten you with arrest, jail or deportation;
request payment of a debt via iTunes, pre-paid visa cards, cryptocurrency or direct credit to a bank account with a BSB that isn't 063-527;
request a fee in order to release a refund owed to you; or
If you suspect that you have been contacted by a scammer, you should:
Contact our call centre. It's OK to hang up and phone us on 136 829 to check if the call was legitimate or to report a scam.
Scamming Methods
Some ways scammers can trick you are by:
Using Voice Over Internet Protocol (VOIP) phone numbers to make and receive calls from anywhere in the world.
Spoofing phone numbers to make phone calls and text messages appear to come from the ATO or The Tax Shop / Tax Refund Centre.
sending pre-recorded voice messages (robocalls) to large numbers of people asking for an immediate call back
sending copycat emails with attachments or links that;

take you to fake login screens or web pages to trick you into downloading malicious software or giving them your personal information
contain programs that record your computer key strokes to get your personal information or login credentials
contains instructions to change bank details
request payment of a debt via iTunes cards, pre-paid visa cards, cryptocurrency

sending ransomware (malicious software) that stops your computer working until you pay a fee – often by Bitcoin
spoofing websites or login pages to get your personal information
accessing your public profile on social media to learn about you so they can meet proof of record ownership or break your passwords.
Top Tips to Protect Yourself From Scammers
Know your tax affairs – you can log into myGov to check your tax affairs at any time, or you can contact your tax agent or the ATO.
Guard your personal and financial information – be careful when clicking on links, downloading files or opening attachments. Only give your personal information to people you trust, and try not to share it on social media.
If you are unsure about whether a call, text message or email is genuine, don't reply. Call the The Tax Shop / Tax Refund Centre on 136 829 or contact the ATO on 1800 008 540.
Know legitimate ways to make payments - scammers may use threatening tactics to trick their victims into paying false debts in pre-paid gift cards or by sending money to non-ATO bank accounts. To check that a payment method is legitimate, visit ato.gov.au/howtopay.
Talk to your family and friends about scams, especially older people who may not understand - if you or someone you know has fallen victim to a tax related scam, call the ATO as soon as you can.
Further Information:
For further information visit the Australian Tax Office (ATO) 'scams' page: ato.gov.au/scams or contact the ATO's dedicated scam reporting line is 1800 008 540.
Share this Article